Posts for tag: dental injury
By New Town Dental Arts
September 04, 2018
Often as children grow older, their participation in sports or similar activities increases. While generally encouraged, this greater activity does increase injury risk, especially to the mouth.
In fact, the late childhood to early adulthood demographic is the most prone portion of the population to incur dental injuries. To complicate matters, their dental development is often incomplete, posing a number of treatment obstacles for an injured tooth.
For example, the primary means for preserving an injured adult tooth is a root canal treatment: damaged or diseased tissue within the pulp, the tooth's innermost layer, is removed and the empty chamber and root canals filled and sealed to prevent infection. But while a fully matured tooth can function without the nerves and blood vessels of the pulp, a developing tooth needs these tissues for continued tooth formation. Otherwise, tooth development can stall and cause problems later on.
The most common solution for younger teeth is to remove any damaged tooth structure without disturbing the pulp if at all possible followed by a filling. That's contingent, though, on whether we find the pulp unexposed or undamaged—if it is, we'll try to remove only damaged or diseased pulp tissue and leave as much healthy tissue intact as possible. To aid with healing and tissue re-growth, we may also place medicinal stimulators between the pulp and the filling.
Jaw development may also pose a challenge if the injured tooth is too far gone and must be removed. Our best choice is to replace it with a dental implant; but if we install the implant while the jaw is still growing, it may eventually appear out of place with the rest of the teeth. It's best to postpone an implant until full jaw maturity in early adulthood.
In the meantime we could provide a temporary solution like a removable partial denture or a modified bonded bridge that won't permanently alter nearby teeth. These methods can adequately restore the function and appearance of missing teeth until the jaw is mature enough for an implant.
While injuries with young permanent teeth do pose extra challenges, we have effective ways to address them. With the right approach, the outcome can be just as successful as with a mature tooth.
If you would like more information on dental care in the formative years, please contact us or schedule an appointment for a consultation. You can also learn more about this topic by reading the Dear Doctor magazine article "Saving New Permanent Teeth after Injury."
By New Town Dental Arts
April 10, 2017
A traditional root canal procedure can be a "life-saver" for a decayed or injured tooth. But while it's usually the best course for a damaged adult tooth, variations of the procedure are advisable for a new permanent tooth in a child or young adolescent.
This is because the inner pulp, the focus of the treatment, plays an important role in a young tooth's development. When it first erupts a tooth's dentin layer, the living tissue that makes up most of the body and roots of the tooth, hasn't fully formed. The pulp increases the dentin layer over time in conjunction with jaw development.
Because a full root canal treatment removes all of the pulp tissue, it could interrupt any remaining dentin development in a young tooth. This could lead to poorly-formed roots and a less healthy tooth. For an immature permanent tooth, then, we would use variations of a root canal treatment depending on the nature and extent of the injury, the patient's overall health and medications they may be taking.
Our main objective is to expose or remove as little of the pulp tissue as possible when treating the tooth. If the pulp hasn't been exposed by the decay or injury, we may only need to remove the softened decayed or injured dentin while leaving harder dentin nearer the pulp intact. If, however, the pulp has become partially exposed by disease or injury, we would then perform a pulpotomy in which we remove only the exposed tissue and then place calcium hydroxide or mineral trioxide aggregate (MTA) to stimulate dentin growth that will eventually patch the exposure site.
In cases where decay or injury has rendered an immature tooth's pulp tissue unsalvageable, we may use a procedure known as apexification that seals off the open, cylindrical root end of the tooth. This will allow bone-like tissue to grow around the root to serve as added support for the tooth. Although it can save a tooth in the short run, the tooth's long-term survival chances may be lower.
By using these and other techniques we may be able to save your child's immature tooth. At the very least, such a technique could postpone replacing the tooth until a more opportune time in adulthood.
If you would like more information on treating damaged teeth in children, please contact us or schedule an appointment for a consultation. You can also learn more about this topic by reading the Dear Doctor magazine article "Saving New Permanent Teeth after Injury."
By New Town Dental Arts
August 29, 2015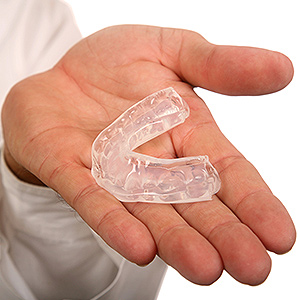 Athletes in contact sports are at significant risk for traumatic injury to their teeth and mouth. It's estimated 600,000 emergency room visits each year involve a sports-related dental injury.
Athletic mouthguards have become the premier safeguard against sports-related oral injuries. First worn by professional boxers in the 1920s, mouthguards are now required for use by various sports associations and leagues — from amateur youth to professional — for a number of sports. The National Collegiate Athletic Association (NCAA), for example, requires their use during play for hockey, lacrosse, field hockey and football. The American Dental Association recommends mouthguards for 29 sports or exercise activities.
But do mouthguards actually prevent injury? To answer that question in a scientific manner, the Journal of Sports Medicine published an evidence-based report in 2007 on mouthguard effectiveness for preventing or reducing the severity of oral-facial injuries and concussions. While the report objectively analyzed many of the problems and issues associated with mouthguards (like materials, design and durability), it concluded the risk of an oral-facial injury was nearly two times greater without the wearing of a mouthguard.
That being said, most dentists and other professionals in sports safety would advise not all mouthguards are alike. The stock, "off the shelf" mouthguard found in many retail stores with limited size offerings is the least expensive, but also least protective, of mouthguard types. Mouth-formed or "boil-and-bite" protectors, which are softened in boiling water and then bit down on by the player to form the fit, are better than the stock version — however, they often don't cover all of the player's back teeth.
The best option is a custom-designed guard made by a dentist for the individual patient. Although relatively expensive (costs range in the hundreds, compared with $25 or less for a stock guard), they provide the highest recognized level of mouth protection.
The bottom line: a mouthguard is a must-wear part of any uniform for any sport that involves contact or high velocity objects of play. If you or a family member is a contact sport athlete, it's essential you protect your teeth and mouth with a custom-fit, high quality mouthguard.
If you would like more information on mouthguards, please contact us or schedule an appointment for a consultation. You can also learn more about this topic by reading the Dear Doctor magazine article "Athletic Mouthguards."